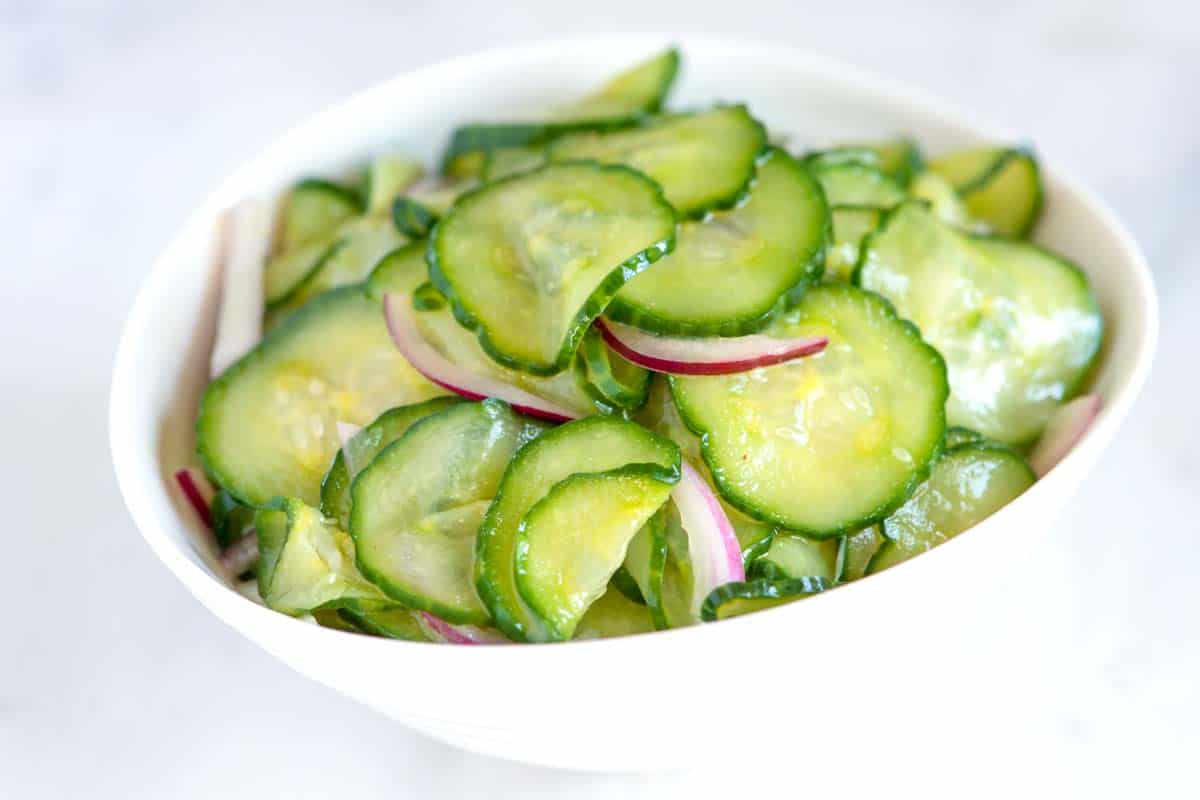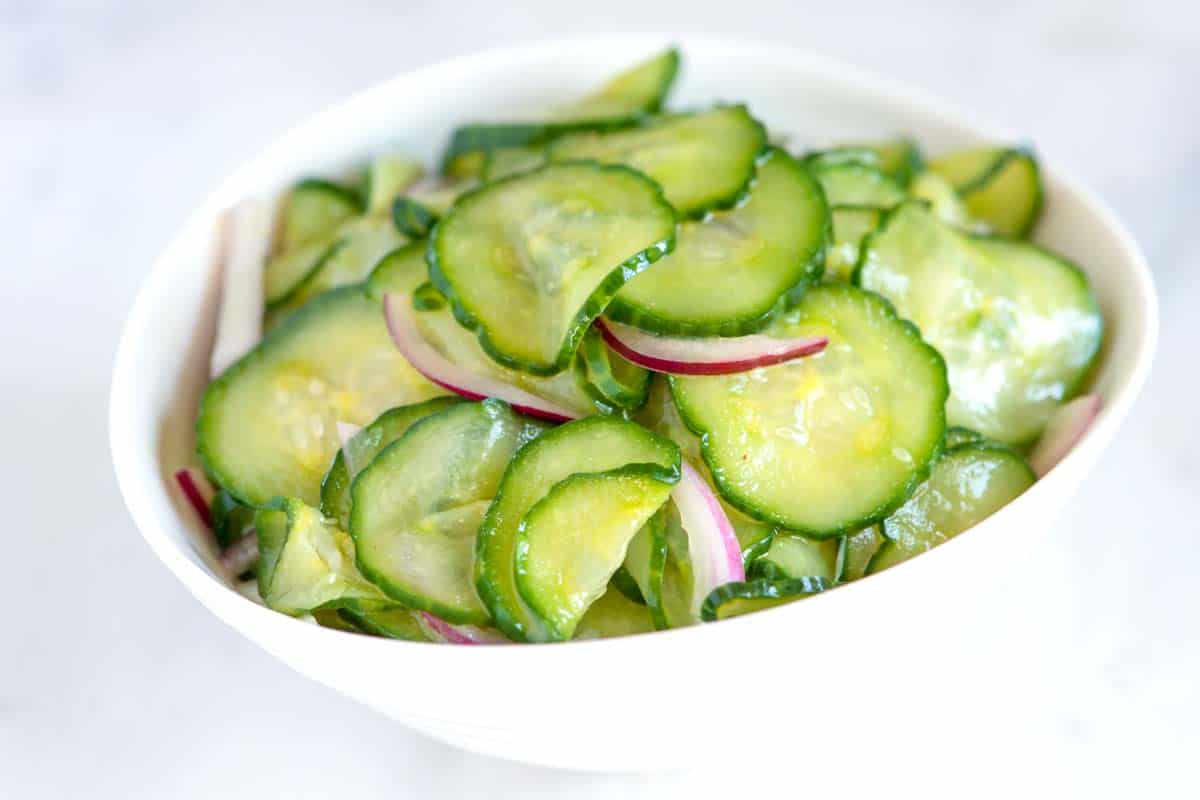 How to make the best cucumber salad with a sweet and tangy dressing made of vinegar, a little bit of sugar, and Dijon mustard. Jump to the Tangy Cucumber Salad Recipe or read on to see how we make it.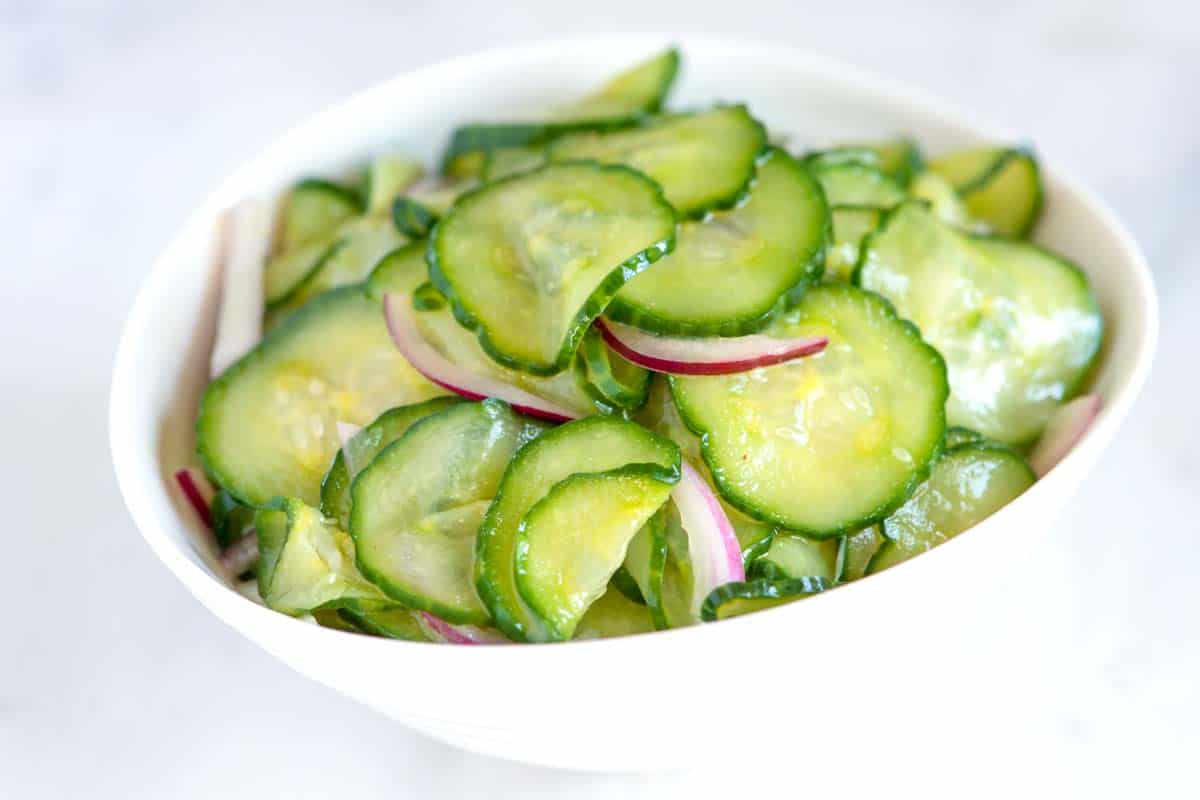 More easy salads: We love this green bean salad with crispy shallots or this creamy cucumber salad with dill!
With a few simple tricks, you can make the best, most flavorful cucumber salad. It amazing how much of a difference they make.
How to Make the Best Cucumber Salad
The secret to this cucumber salad recipe is salting the cucumbers. The salt makes the cucumbers taste better and get rid of excess water, which can dilute the dressing.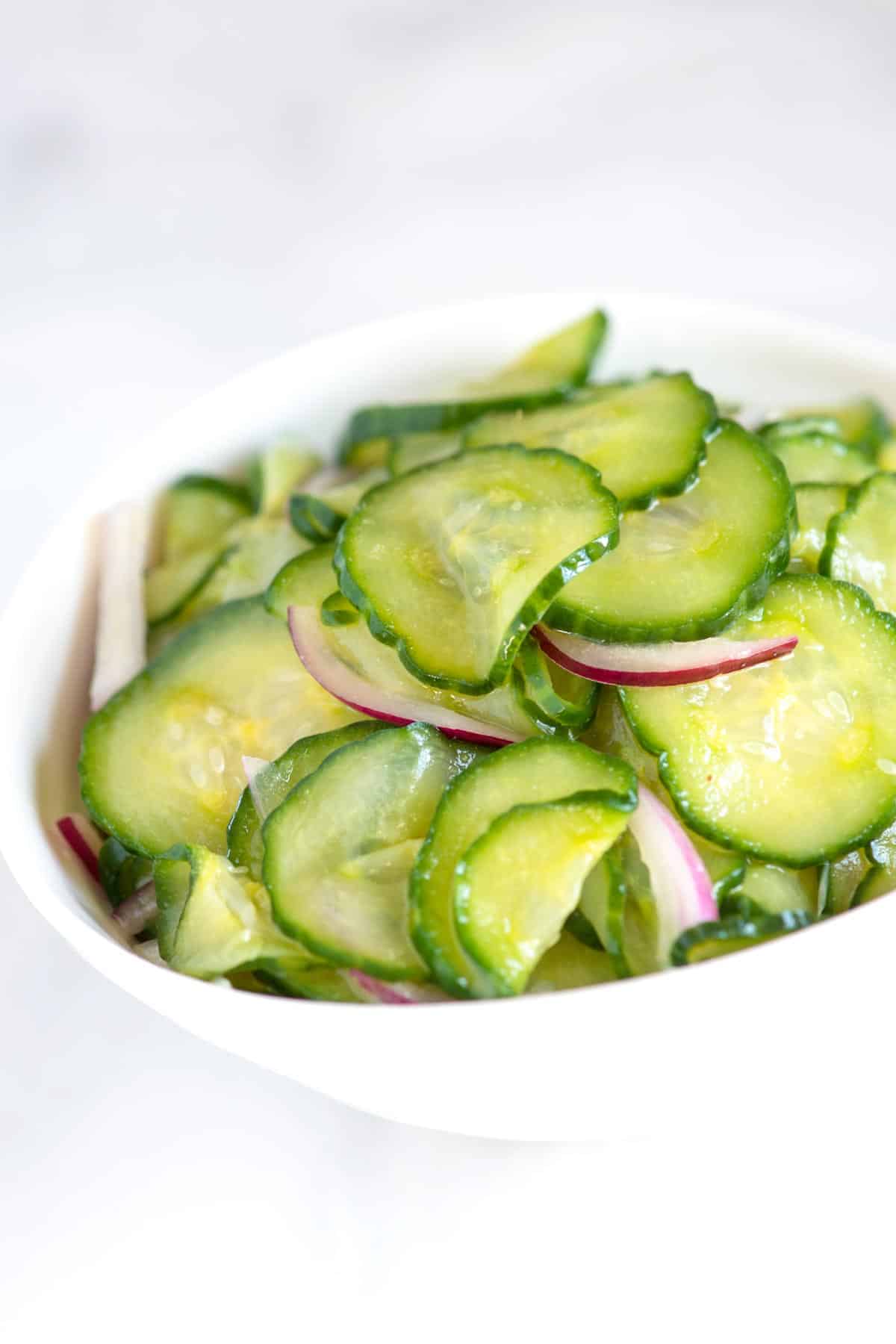 You see, cucumbers are made mostly of water. By salting them, we draw out excess water before tossing with the dressing. We've done this in other recipes — remember our mayonnaise-free coleslaw salad and this creamy cucumber salad made with Greek yogurt?
Salting the cucumbers makes the dressing tasty, not watered down. It also makes the cucumbers taste more like cucumbers. It intensifies their flavor. The salting process takes about 30 minutes and is well worth it.
Here's how we do it: Slice cucumbers into thin coins — we use our mandoline slicer, but a knife works, too. Toss the cucumber coins with salt then let them sit in a colander — we set ours in the sink — for 30 minutes.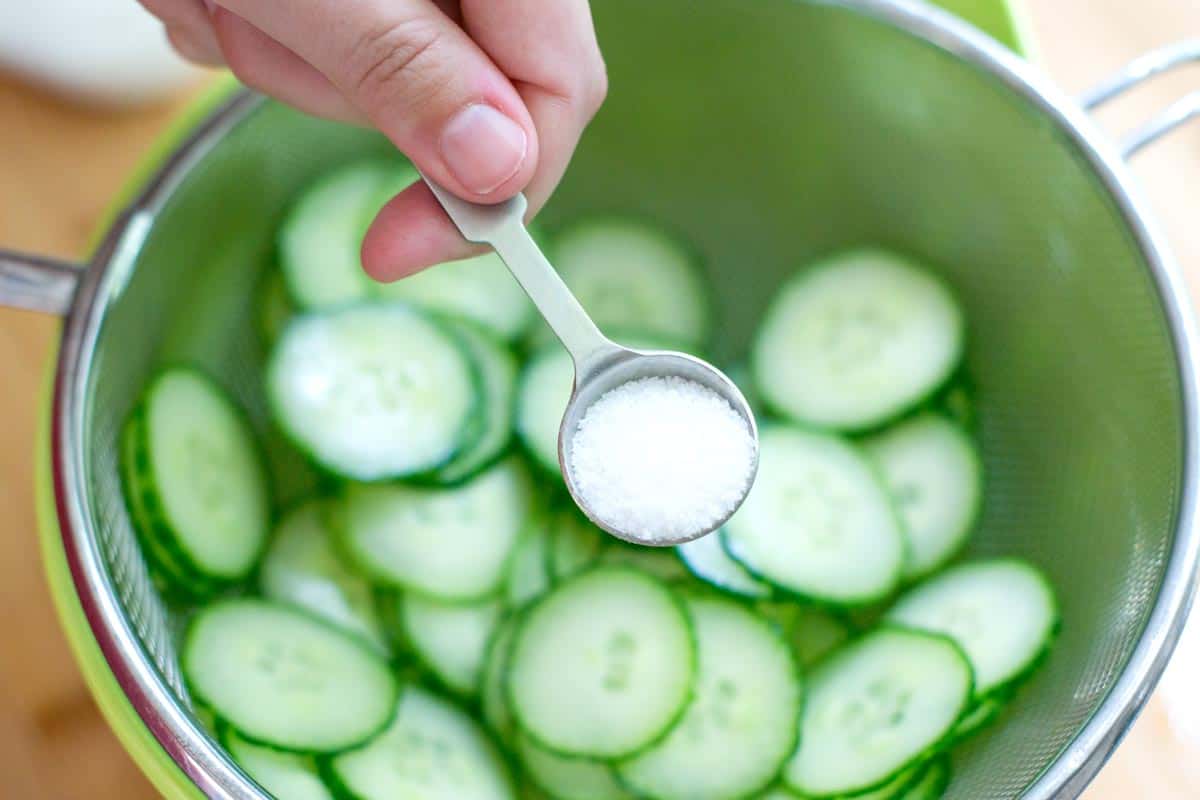 After 30 minutes, rinse the cucumbers with cold water. Rinsing gets rid of any excess salt so that the salad won't be too salty. Finally, squeeze them dry by adding them to a clean dishcloth and squeezing.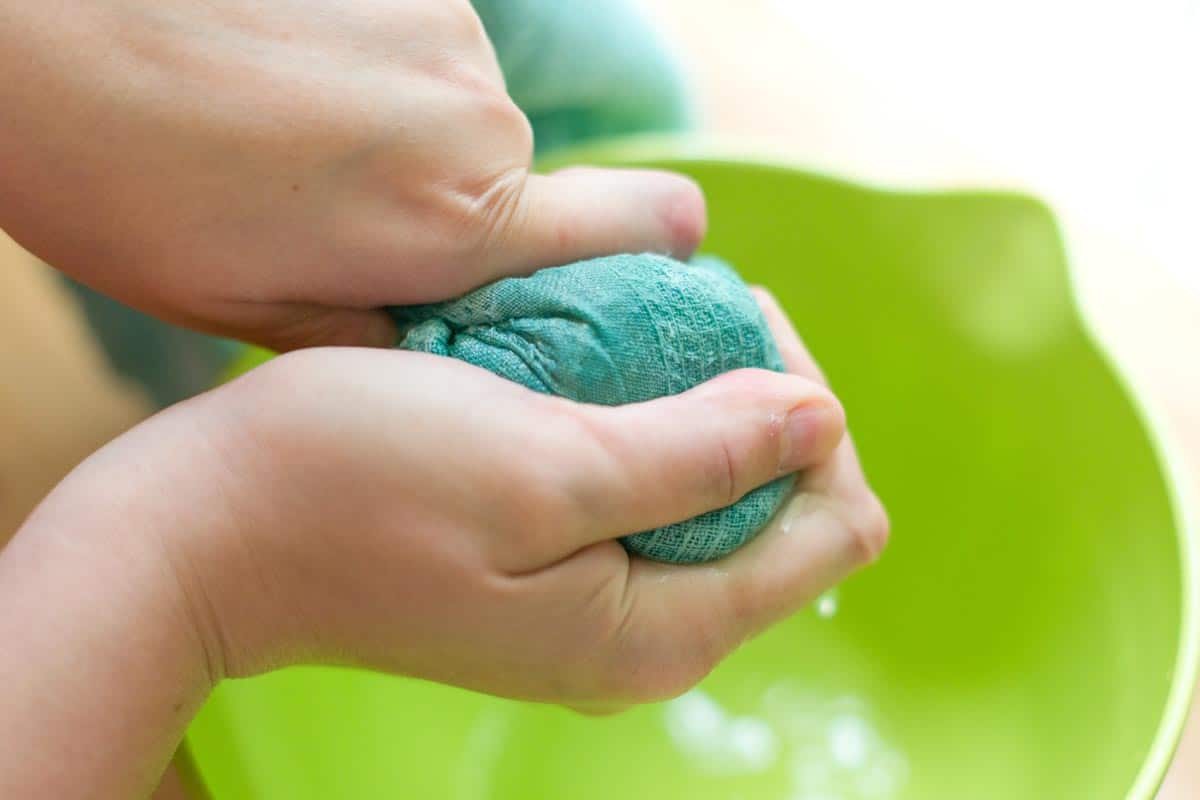 When you have salted, rinsed and squeezed cucumbers, it's time to make the salad. The dressing is simple and made with vinegar, mustard, and a little bit of sugar for balance. To finish, add a handful of sliced red onion. Easy! You can enjoy the salad straight away, but it does get better after an hour in the fridge.
More Easy Salad Recipes
Recipe updated, originally posted June 2013. Since posting this in 2013, we have tweaked the recipe to be more clear. – Adam and Joanne
Tangy Cucumber Salad
AUTHOR: Adam and Joanne Gallagher